SECTION TWO:
panel 6 expanse (you are here!)
The vaquero herding cattle represents the Spanish and then Mexican colonial period.
Spain claimed Alta California (a vast territory including California, Nevada, Utah and parts of Arizona, Wyoming, Colorado and New Mexico) from 1769 to 1822.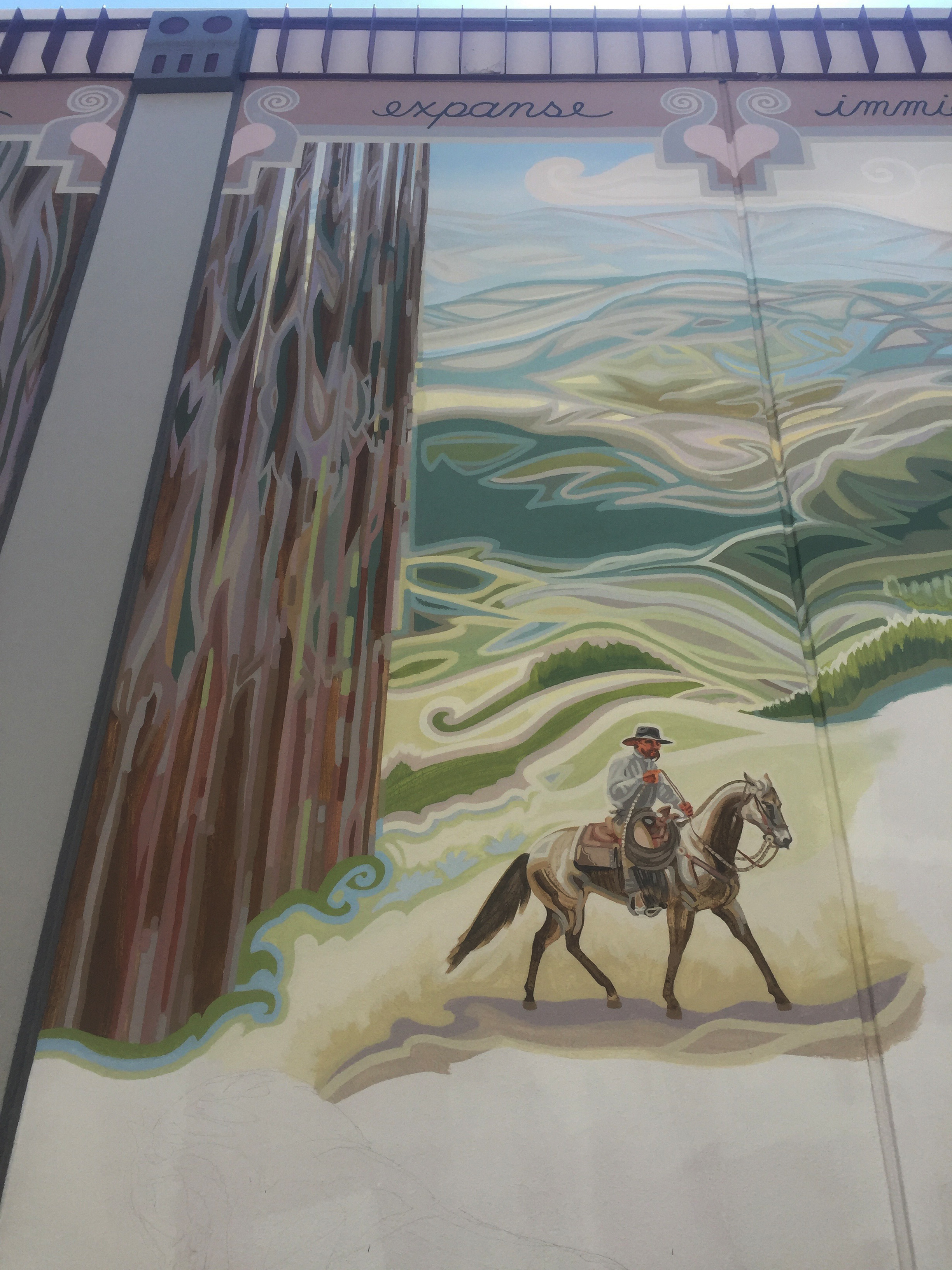 It was colonized by means of Franciscan missions, whose aim was to convert the natives to Catholicism, pass their land back to them and then have them as Spanish subjects.
Mexico gained independence from Spain in 1822 and California became a Mexican territory. Land grants were commonly given as payment to retired soldiers.
The only land grants in Mendocino County were:
Rancho Sanel in Hopland (1844) and
Rancho Yokaya in Ukiah (1845), given to Cayetano Juarez, who had been a soldier at the Presidio in San Francisco. The name "Ukiah" comes from Spanish interpretation of a Native term for "deep valley" or "southern valley" hence Rancho Yokaya, which extends from southern Ukiah up into Redwood Valley.
Mexico preserved the Spanish idea of giving land back to the Indians in formal documents, but this was certainly not a reality on the ground. Still, neither Mexico nor Spain settled the territory with large populations.Vast ranchos and herds of cattle were cared for by small groups of people, primarily vaqueros, experts in a Spanish style of natural horsemanship marked by great skill. This is part of the origin of what is known as the "horse whisperer." Some vaqueros were of Mexican and ultimately Spanish heritage and some were Native people.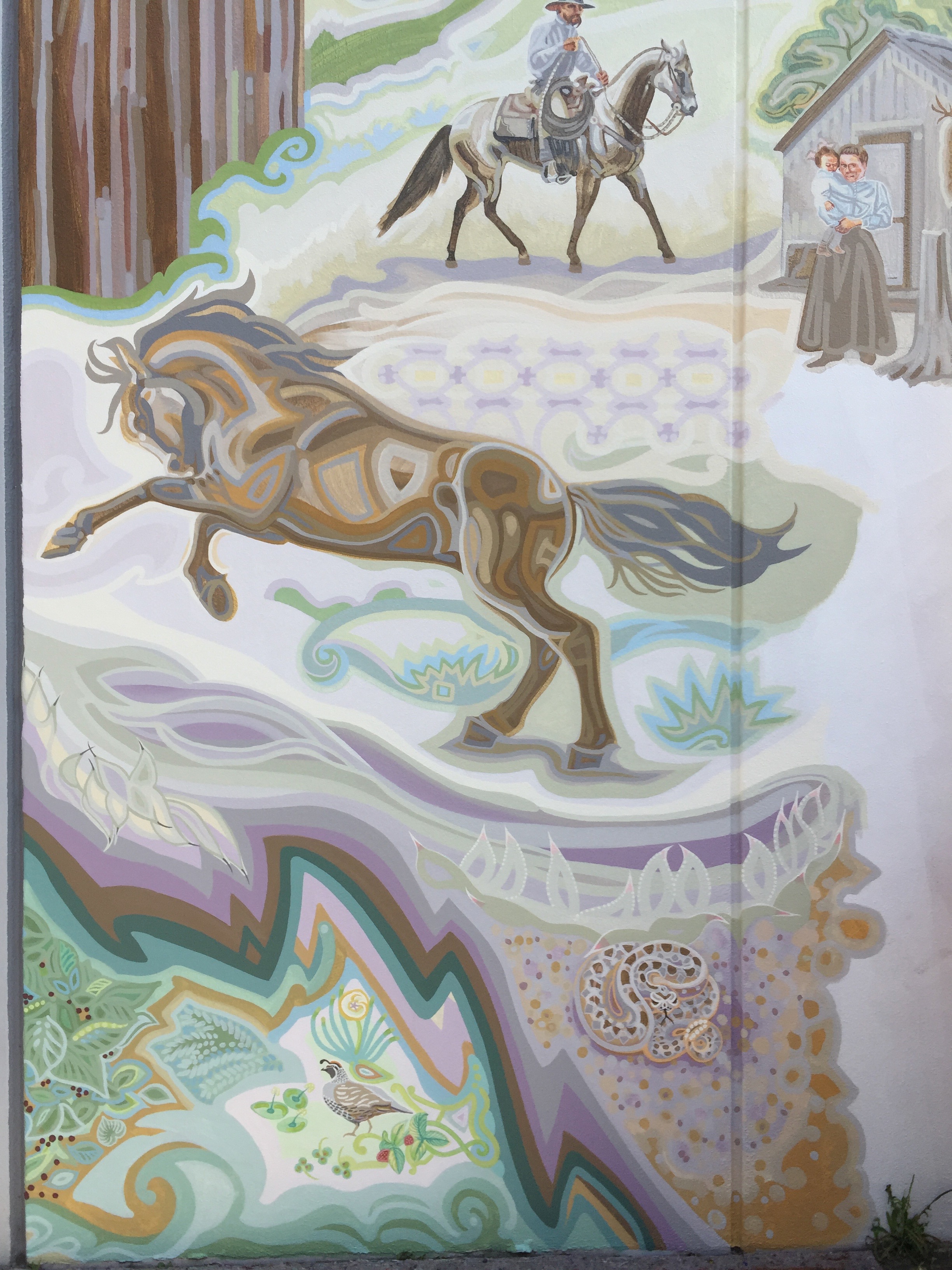 In the lowest section of the panel I depict a scene with much meaning.
The jagged line represents rupture between the Native peoples' life in a land of plenty and their new life under colonial pressure and suffering the degradation of their shrinking food environment with new people and their livestock and claims to the land.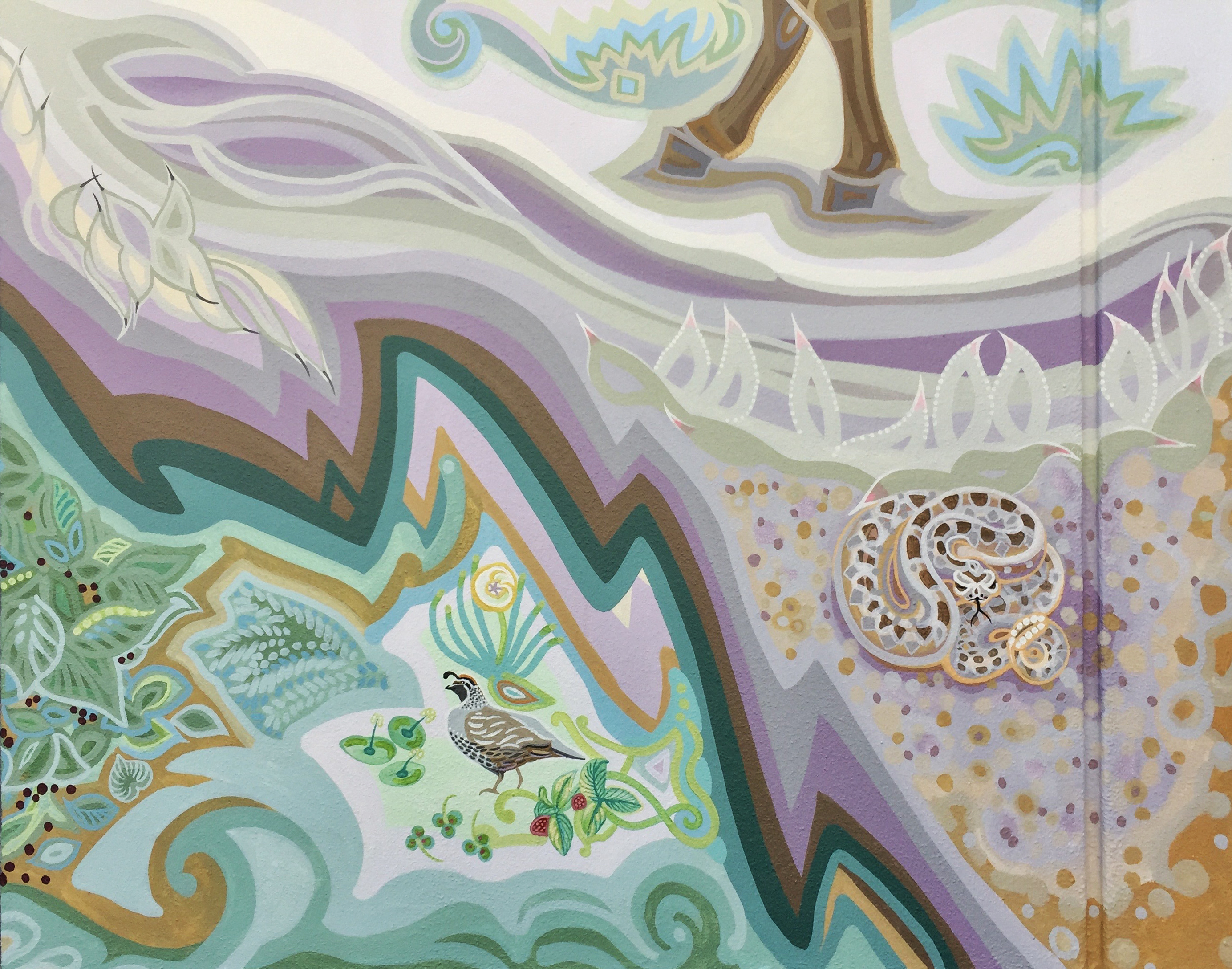 Included in the "land of plenty" side are blackberries, edible greens like miners' lettuce and flowering tubers you could roast like potatoes, wild strawberries, clover, and a quail. On the harsh side of the divide are spiky succulents and a rattlesnake in a dry environment.
Return to overview SECTION TWO