List of panels:
Scroll down or click these links for the section's overview and photos of completed panels.
The entire mural is complete! Individual panel pages will be coming soon.
panel 24 service
The value of service to others is universal. One of the deepest joys of being human comes from helping someone else, extending a hand, finding yourself in a spontaneous act of kindness.
Ukiah is full of service organizations, non-profits devoted to doing good, and other organizations with a prominent service function. I wondered how to represent service in the mural?
Fires!
Originally I planned to paint a senior lunch, but on July 27, 2018, I was working on my scaffolding when two plumes of smoke began to rise to the east and southeast. These Ranch and River fires became the Mendocino Complex wildfire, at that time the largest in California history! Through the days and weeks, we all wore face masks and I painted in the orange gloom. The town was full of firefighters from all over the state, nation and other countries. Everywhere we went, we thanked them. People wouldn't let firefighters pay for groceries, drinks and meals. Hundreds of firefighting planes flew over the Conference Center. At some point it dawned on me that the service panel needed to be about our firefighters.
AND NOW, in 2020, it needs to be about our medical professionals and first-responders as well! Who knew how much that picture of me in a mask presaged the masked reality of the Covid-19 pandemic.
The day I began the fire-fighting subject matter, I turned my attention to the middle ground. I was working from a great photo of an air tanker dropping fire retardant. These are American passenger jetliners repurposed into firefighting planes that can carry up to 12,000 gallons of water or fire retardant and have been in service since 2006. The aircraft I was painting is owned by 10 Tanker Air Carrier, and the photo was from the Mendocino Complex fire. I scrutinized its details and noticed the plane's call-sign, 911. It jolted me because the day I was painting was 9/11, the same day that the firefighters in New York faced an unprecedented disaster in 2001, which was very much on my mind.
In the scene below I painted a CalFire truck and firefighters taking a break after grueling hours on the job. This panel was the first in which I used my gallon of orange paint.
The fatality that occurred in the Mendocino Complex fire reminds us of the danger these men and women face as they protect people and property. Matthew Burchett was a 42-year-old battalion chief from Utah helping to battle flames downstream of Lake Pillsbury's Scott Dam. He came to help us and paid the ultimate price.
Moreover, the lives local family members have been tragically cut short by these increasing fires. It is meaningful that my next panel is remembrance.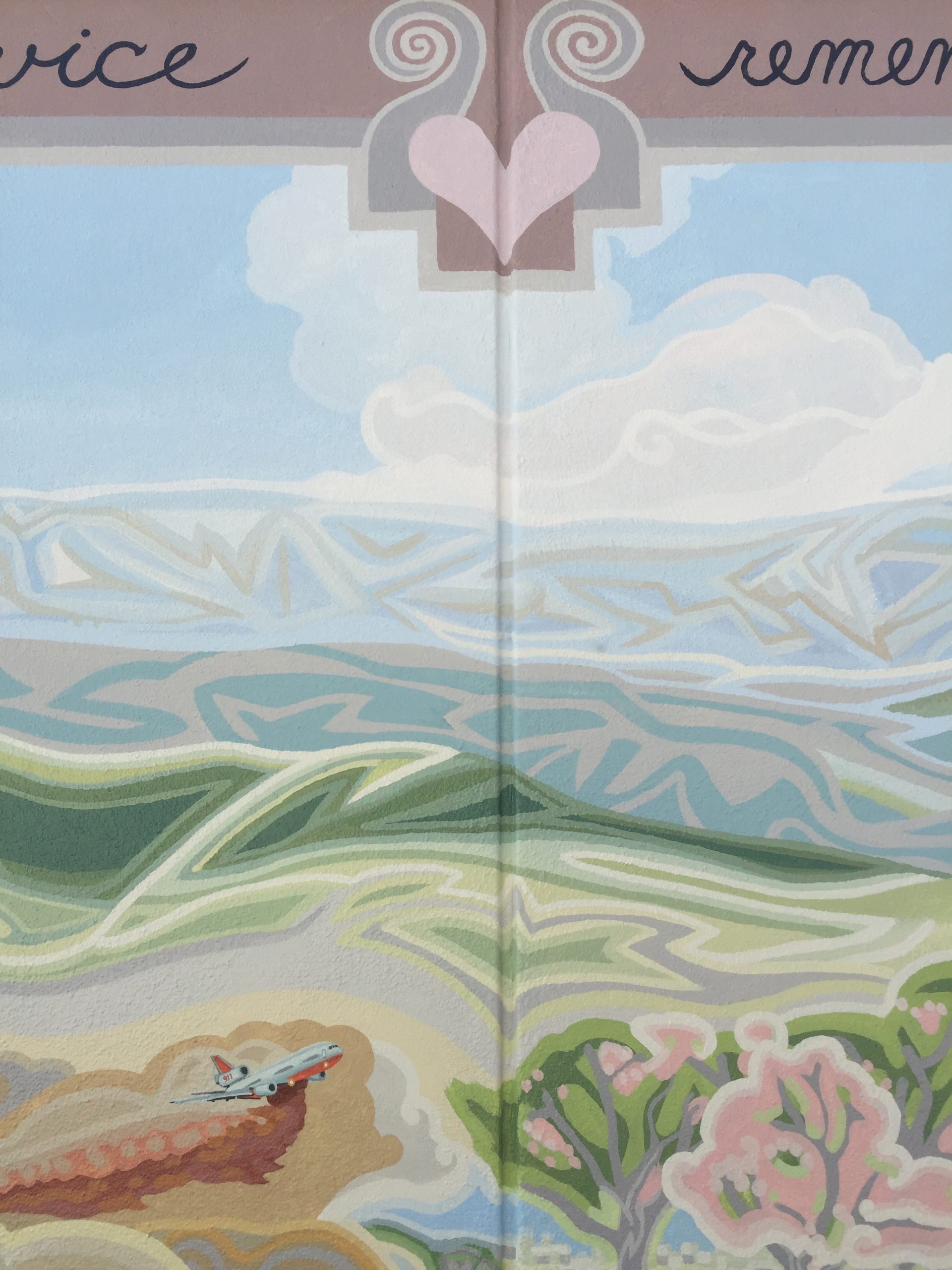 In 2020, I painted firefighters to the foreground. Plus I added another firefighting plane, #91, one of the smaller ones headquartered in Ukiah, flown by pilot John Butts. See it below, very close to the back of the CalFire truck.
In 2020 we experienced not only more catastrophic fires but also a global pandemic which continues into 2021. The subject matter needed to expand to include a scene of medical workers treating Covid-19 patients. I worked from an image of the new ICU at our local hospital, Adventist Health. In this scene, I painted the 100th portrait in the mural!
Dr. Trotter has worked in Intensive Care and local Emergency Rooms for decades. He is well known and also well recognized! I painted this scene during the last two days of painting and already observed four people recognize him in the mural.
This photo reveals the third major element of subject matter in the panel, military service.
This was the last day of painting for the season, Veteran's Day, on the 11th day of the 11th month, which was when the armistice was signed in the 11th hour, ending World War I. My subject matter, unplanned, was military service and I completed the 101st portrait in the mural, that of Stephen C. Brunton, one of 22 servicemen from Mendocino County who lost their lives in Vietnam.
My great friend (and former colleague in government and transportation) Phil Dow also served in Vietnam and helped me select who to portray and what their stories meant. Petty Officer Stephen Brunton was assigned to US Navy Forces Vietnam, the "Brown-Water Navy" that delivered troops and supplies on the dangerous jungle rivers of the Mekong Delta. These waterways were the only highways in the region. Brunton was leading a column of river craft when the Alpha boat was fired on by machine guns and rockets. He continued forward; the column reached its destination, but not before this Ukiah boy lost his life.
The anonymous figure at the very bottom of service is a prone soldier representing this ultimate sacrifice. The gravestone at his head crosses over into the remembrance panel. A woman kneels in grief before it. She could be his wife, his sister, or the daughter he never knew.
More stories and elements will have to wait for the individual panel page.
panel 25 remembrance
This is Ukiah's Russian River Cemetery, with its cherry trees in blossom and Memorial Day wreaths lining the roadway.
This panel depicts how we keep our loved ones with us after they have gone.
We carry them where they can't go themselves by keeping them in our hearts and memories as we step into the future. In the panel I painted their portraits, framed photos, and gravestones.
Robyn walks by nearly every day and touches the image of her beloved husband Ron in a photo of their wedding. White Wolf honors the memory of his niece represented by the inscription on her grave marker.
The individual panel page will reveal much more – coming soon.
panel 26 our future together
Kids are the future! Children will be depicted helping each other cross a creek on a log on the left. Many other portraits with specific meaning have come to life. A boy named Valentino who loves maps is painted here holding a blueprint to the housing so desperately needed in our county.
Below the sustainable solar houses and imagined Circle Village development, you see the 100 block of W. Standley Street. This represents finding full value in the old and new, in using what we have as a community, keeping our downtown and neighborhoods vibrant.
In the west, the afternoon sun is setting on the waters of the Pacific Ocean. On the golden rays are written words in white. They are the aspirational values of our positive future:
equality
tradition
vision
honesty
compassion
respect
peace
freedom
Individual panel page coming this winter!