This is just a few of the many sources I used in researching the mural, but I wanted to list several that I deem essential.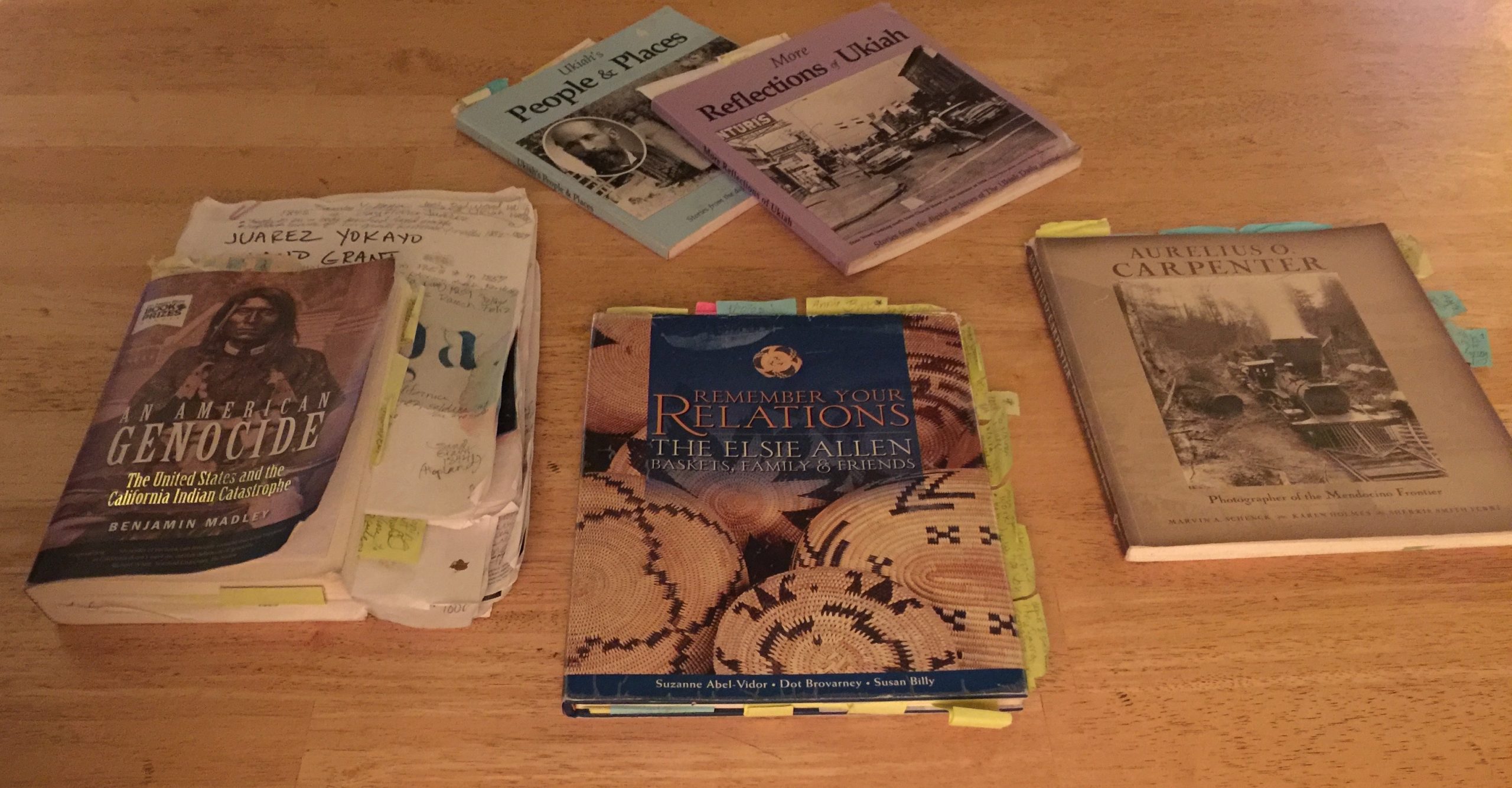 This is essential reading. Not just for people interested in history, but for anyone who cares about a just and peaceful society. All of our cultures have inspirational achievements. But some committed atrocities as well. Only knowledge of the truth allows us to heal and move beyond injustice.
Between 1846 and 1873, California's Indian population plunged from perhaps 150,000 to 30,000. Benjamin Madley is the first historian to uncover the full extent of the slaughter, the involvement of state and federal officials, the taxpayer dollars that supported the violence, indigenous resistance, who did the killing, and why the killings ended. This deeply researched book is a comprehensive and chilling history of an American genocide.

Madley describes pre-contact California and precursors to the genocide before explaining how the Gold Rush stirred vigilante violence against California Indians. He narrates the rise of a state-sanctioned killing machine and the broad societal, judicial, and political support for genocide. Many participated: vigilantes, volunteer state militiamen, U.S. Army soldiers, U.S. congressmen, California governors, and others. The state and federal governments spent at least $1,700,000 on campaigns against California Indians. Besides evaluating government officials' culpability, Madley considers why the slaughter constituted genocide and how other possible genocides within and beyond the Americas might be investigated using the methods presented in this groundbreaking book.

Benjamin Madley is associate professor of history, University of California, Los Angeles, where he focuses on Native America, the United States, and genocide in world history.

Yale University Press
The book pays tribute not just to baskets but also to those who created them. Photographs and information about more than 30 identified and unidentified weavers, gives us an understanding of their lives, an insight into their relationships with each other, and a glimpse into the remarkable communities and culture from which they came.

Grace Hudson Museum
Bumping along rutted dirt roads in a horse drawn wagon, an intrepid photographer named Aurelius O. Carpenter carted his camera equipment across the frontier of Northern California's rural Mendocino County region. For nearly 40 years, beginning in the early 1870s, he documented the lives of Pomo Indians and white settlers; the coming of the railroad, logging and shipping industries; and the agricultural endeavors and natural beauties of this area. The first examination of Carpenter's life and career, this book brings to life an important period of California history.

Grace Hudson Museum
Anderson begins her introduction by saying "The New World was in fact a very old world." It was a world shaped for millennia by the sustainable and sustaining practices of the many Native tribes who lived in this fertile land.
John Muir was an early proponent of a view we still hold today—that much of California was pristine, untouched wilderness before the arrival of Europeans. But as this groundbreaking book demonstrates, what Muir was really seeing when he admired the grand vistas of Yosemite and the gold and purple flowers carpeting the Central Valley were the fertile gardens of the Sierra Miwok and Valley Yokuts Indians, modified and made productive by centuries of harvesting, tilling, sowing, pruning, and burning. Marvelously detailed and beautifully written, Tending the Wild is an unparalleled examination of Native American knowledge and uses of California's natural resources that reshapes our understanding of native cultures and shows how we might begin to use their knowledge in our own conservation efforts.

M. Kat Anderson presents a wealth of information on native land management practices gleaned in part from interviews and correspondence with Native Americans who recall what their grandparents told them about how and when areas were burned, which plants were eaten and which were used for basketry, and how plants were tended. The complex picture that emerges from this and other historical source material dispels the hunter-gatherer stereotype long perpetuated in anthropological and historical literature. We come to see California's indigenous people as active agents of environmental change and stewardship. Tending the Wild persuasively argues that this traditional ecological knowledge is essential if we are to successfully meet the challenge of living sustainably.

University of California Press