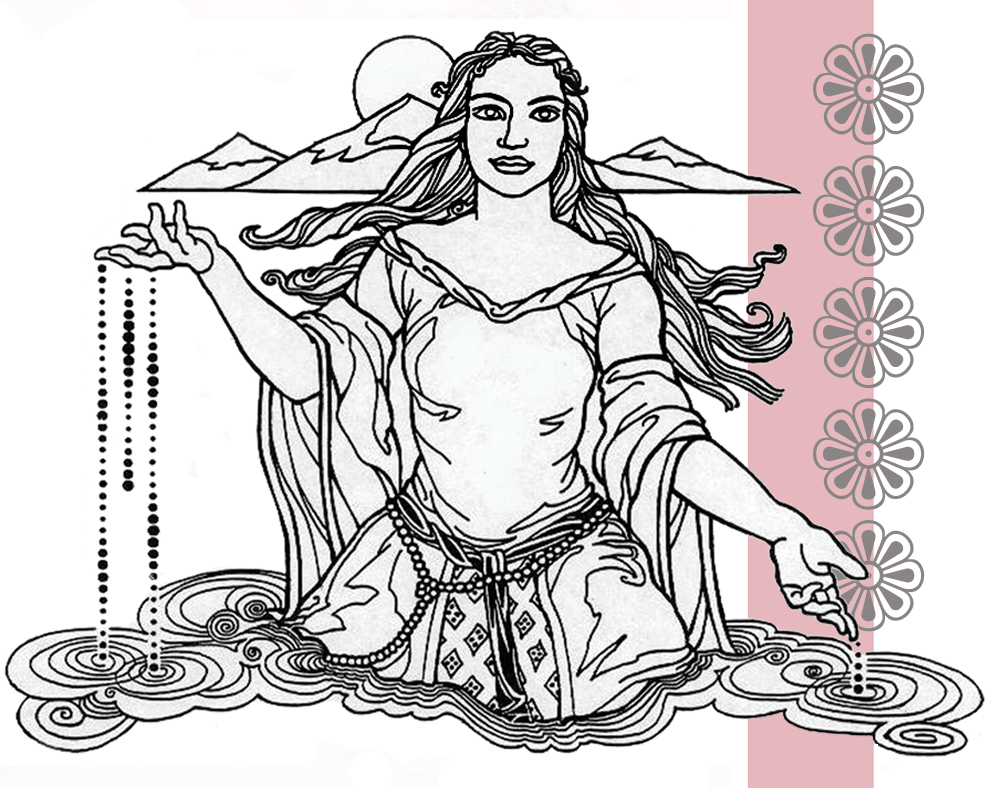 "Ukiah Valley – Past, Present, and Future" – A historical narrative by Lauren Sinnott

Thanks for visiting this website for the mural, a portrait of all of us here in Mendocino County. Why is this absolutely the coolest project I have ever worked on?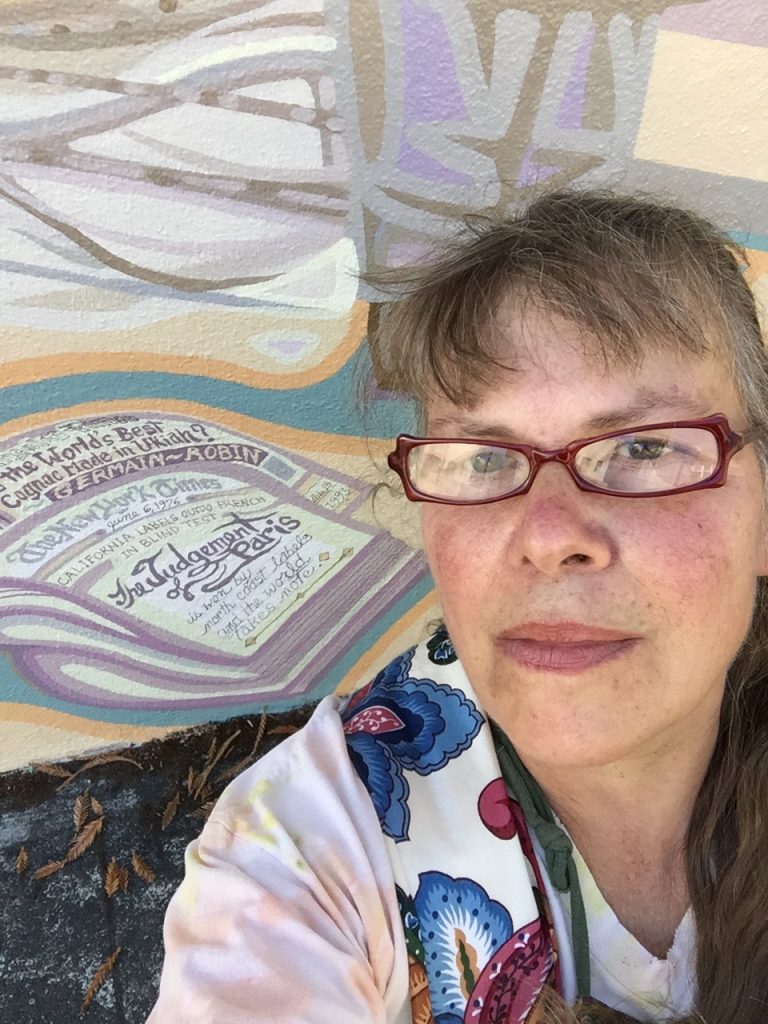 Because it's fun.
Because I get to escape the coastal cold and enjoy real summer.
Because it's big enough for all my ideas.
Because this project lets me use my artistic talent, my love of history, devotion to decorative pattern and gorgeous subtle colors.
Because I get to use the handwriting I learned in grade school…
But most of all because of all of you!
Art is usually such a solitary thing, but here, my studio is our town, and you are all around me.
There are many reasons this is awesome…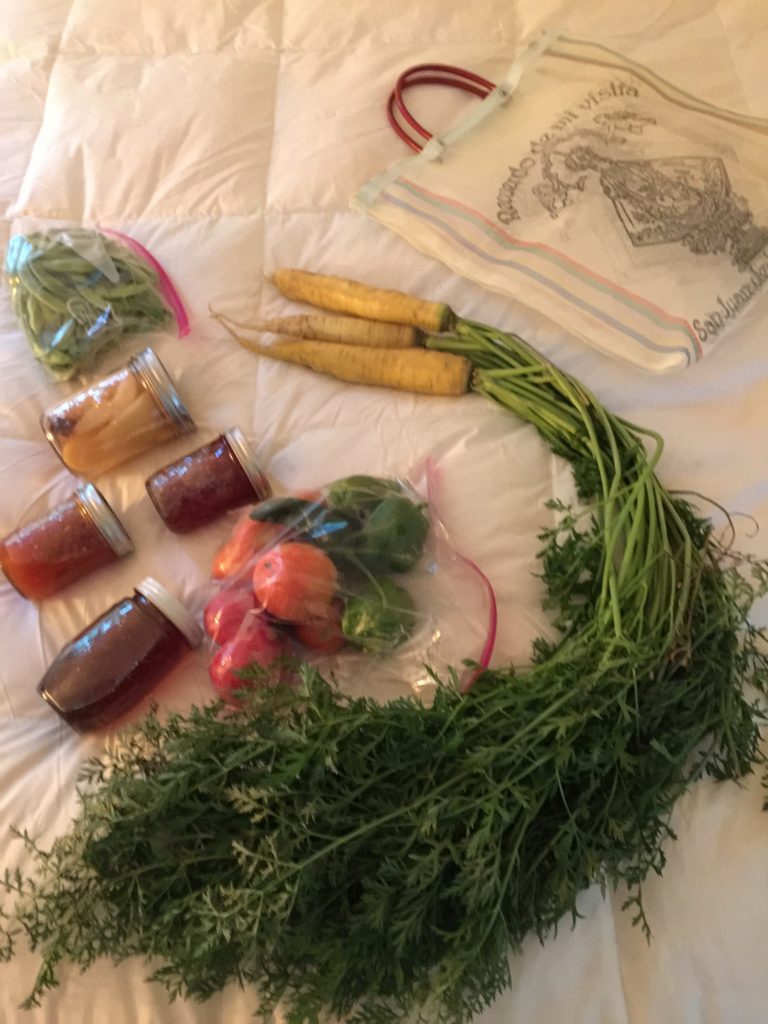 You have given me ideas and source material.
You have brought me gifts of cold water, pastries, eggs and potatoes, sushi, fruit, garden veggies, jam, honey, smoked salmon, gift cards and champagne!
I have generally been allowed to float in a sea of your compliments.
Sometimes we have deep talks while I'm painting. Out of heartfelt stories have come empathy and introspection, laughter and tears, as well as mural subject matter.
I get to paint you into the story!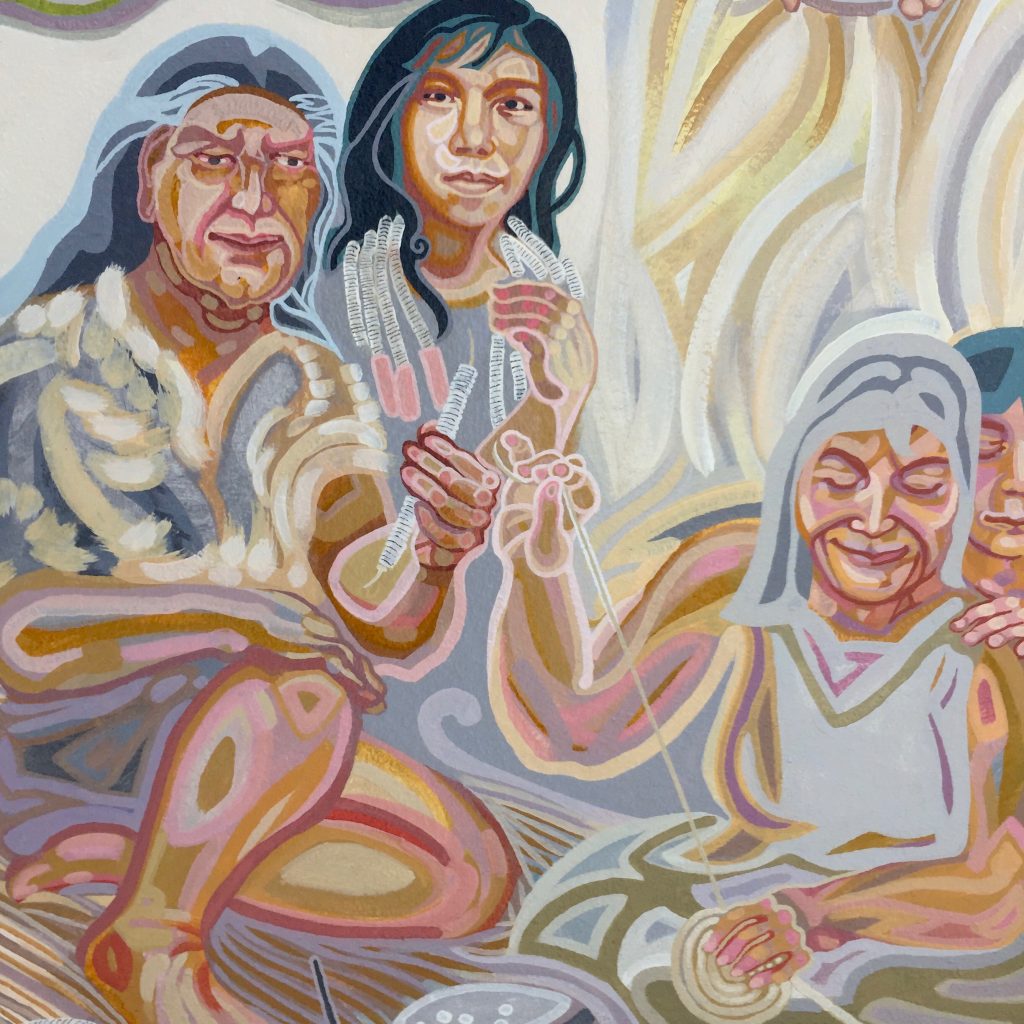 Putting portraits in the mural makes it come alive.
It is wonderful to portray new friends and the children I have come to know (plus my own!)
Portraits of contemporary people in scenes of the past is a trick that goes back to the great group scenes and civic commissions of the Italian Renaissance.
Honoring the departed by portraying them now is a practice that goes back much further.
I feel that every day I am walking on a trail blazed by artists and patrons throughout the ages.
How it happened…
The opportunity grew from local interest and donations collected by Art Center Ukiah. Then the Arts Council of Mendocino County took on administration of the project and doubled the money with a matching Local Impact grant from the California Arts Council. This program fosters equity, access, and opportunity. After winning the competition, my part would be $11,000.
This is awesome and I am grateful. The project is a career crown jewel, the most epic mural of my career.
In addition to the arts organizations of the city, county and state, credit is due to:
The City of Ukiah for adopting a Public Art Policy, which was designed to integrate into the Downtown Design Guidelines, and for giving permission to paint this huge wall. I took very seriously the need to harmonize with the existing decor of the Conference Center building.
The Design Review Board and the Planning Commission, for being supportive of my vision at every turn.
The public – this is an opportunity to create beautiful imagery that has an inspirational message meant for everyone, but also about everyone.
All representational art tells a story, and the best public art often tells the story of its place. My historical narrative is intended to enhance civic identity for all residents of our area and express that in a welcoming way to visitors. People have told me how proud it makes them feel, how recognized and honored. Some (including men!) have said it makes them cry.
So back to the money issue. It was me who chose to make the most of this huge wall by filling it to the brim with stories, portraits, buildings, hills and valleys, plants and animals.
I love the expansion of each subject as I start a new panel. But, given the breadth of what is possible, the original $11K stretches thin over four years work. Members of the public who love what I'm doing have encouraged me to set up a fund so they can contribute. Any amount is appreciated.The fund will help me pay my bills as I tell our story in pictures.
Just to be given this opportunity is enough, but if you feel like contributing, please go to my GoFundMe campaign: