SECTION FOUR:
panel 15 labor (you are here!)
With lumber, construction, agriculture and a growing economy in the mid-1900s came the need for a larger workforce, prompting population expansion in most demographics.
Ukiah became a major producer of pears. Alex R. Thomas and Company owned hundreds of acres of Bartlett pear orchards on the east side of the valley. For 90 years local and migrant workers of all ages were employed picking and packing pears for domestic and foreign consumption. This was a job performed by professional pickers and their families (elders and kids roamed the orchard on foot gathering low-hanging fruit), and by many Ukiah-area high schoolers.
Pears are delicate, hence labor-intensive. Unlike grapes, pears cannot be machine picked. They must be harvested manually, from a ladder, by the hands of someone skilled enough not to damage the fruit.
As I was painting the mural, I met many of the city employees who work at or come to the Conference Center frequently. One of these, José Ruiz, saw my planned subject matter and said he used to pick pears, a skill he learned from his grandfather. He became my advisor on this panel, instructing me in every aspect of pear harvesting and storage, the ladders used and the brilliantly designed canvas pouch that opens from the bottom so the pears can be carefully laid down in their collecting bin and the bag simply slid away. He also agreed to model!
Local pear orchard names are on the boxes at the base of José's ladder.
The remainder of the labor panel, which honors all the work we do with our bodies and hands, shows the 1940 WPA project consisting of the low stone wall built around Todd Grove Park and its accompanying beautiful wrought iron gate.
The Works Progress Administration (WPA) was a massive employment and infrastructure program created by President Roosevelt in 1935, during the depth of the Great Depression. Over eight years, the WPA put about 8.5 million Americans to work.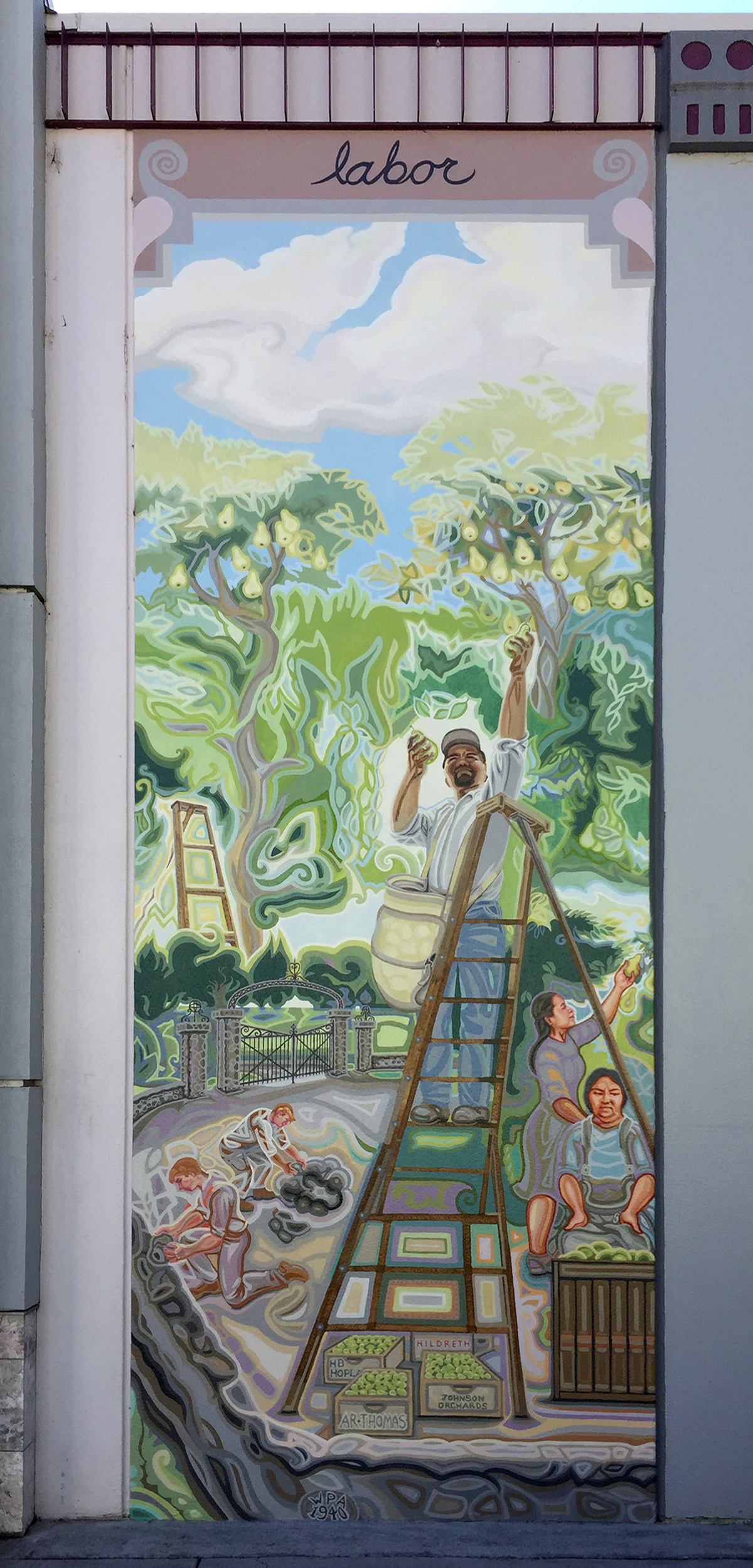 This is where I stopped for the 2019 season. Thoughout the warm season of 2020, I painted the next six panels, packed with contemporary portraits. I finished the remaining five in 2021 and we celebrated with champagne!