SECTION THREE:
panel 14 education (you are here!)
Two panels flank the Conference Center's north entrance. I intentionally paired two subjects here as necessary pillars of society: education and labor.
In the "education" panel, you will see the old and the new:
above, the Library of Mendocino College
and below, Ukiah's Grammar School, built in 1872, and located where the Civic Center is now at 300 Seminary Drive.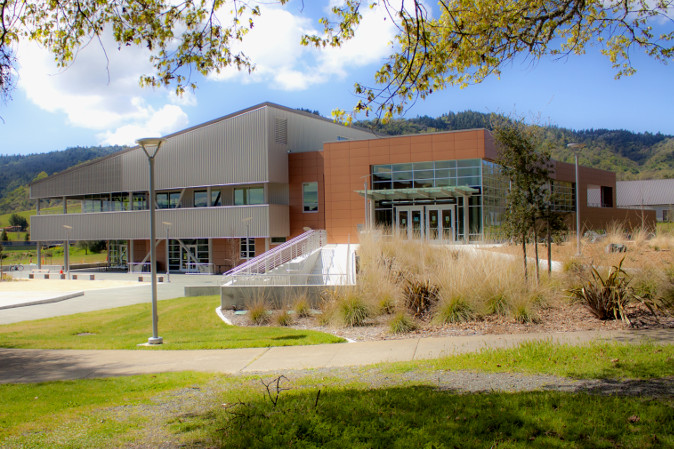 The Mendocino College Library is the hub for the main campus, providing access to over 36,000 library materials, 142,000 eBooks, millions of articles, computer access, study rooms, and current periodicals. Sun control systems, north-facing clerestory windows, a natural ventilation system and installation of a vegetated roof system help make this a sustainable and energy efficient building.

https://mclib.mendocino.edu
The gorgeous Grammar School, for grades 3 through 8, like the historic Primary and High Schools, was a point of pride for the community. Sadly it only lasted about 40 years, being sold, moved and then torn down. But its beauty can live on here.
Can you see the teacher standing on the left stairway? She is only 4 inches tall.
These grand edifices and the elements below them represent various forms of education:
Higher education (the college library)
Primary and secondary education (the grammar school)
Advanced skills (Pomo basket weavers)
Essential practical knowledge taught at home, like cooking, repair and construction (the historic kitchen scene)
The foundation of education: self-discovery through the senses, seen as a toddler at one with nature.
These scenes are FULL of portraits!
To illustrate education in high-level skills I painted three portraits from historic photos published in Remember Your Relations – The Elsie Allen Baskets, Family & Friends, by Suzanne Abel-Vidor, Dot Brovarney, Susan Billy 1996. This fabulous resource is essential for anyone interested in Pomo baskets.
Annie Burke (1876 – 1962) was an accomplished weaver who also devoted herself to educating the world about Pomo basketry. She broke ground when she told her daughter Elsie not to destroy her baskets upon death, as was customary, so they could form part of an educational collection. She also purchased the work of others, meticulously noting technique and artist, to add to the collection, which she presented at institutions great and small.
Elsie Allen (1899-1990) took up her mother's mantle, creating and teaching, as well as promoting education, cultural preservation, and Indian rights. Elsie faced opposition in defying tradition but she honored her mother's wish and promised to continue the tradition.
She taught her daughter Genevieve Aguilar and others, including grand-niece Susan Billy, who returned home after college to apprentice in the 1980's.
This scene contains 5 more portraits:
First, from a 1940s photo, George and Ella Butler who purchased land after the Depression and created a much-loved cherry farm, visited by locals for generations.
Standing with George outside the window where a cherry pie cools is a contemporary local boy, Valentino, who was 5 years old at the time and loves books and maps.
The kids learning to make pie dough are actually a grandfather, Dave Poma, and his grand-daughter, Rhinna, age 9. But I painted Dave from his High School freshman yearbook when he was 14!
The kitchen interior is based on the Held-Poage Memorial Home, part of the Mendocino County Historical Society. Notice the "ice box" in the photo and in the mural. A block of ice was placed in the top and the insulated cupboard kept the contents of lower shelves cool.
At the base of the panel I represented the foundation of education, learning with our senses from the world around us. The toddler holds clovers in his hand, one of which has four leaves! And he is a portrait..
The portrait of Adrian, now 27, was painted from the photos in his hands and from a mother's knowledge.