SECTION FIVE:
panel 22 manufacturing (you are here!)
The subjects of manufacturing and innovation are linked.
Manufacturing represents the old and the new, the big and the small.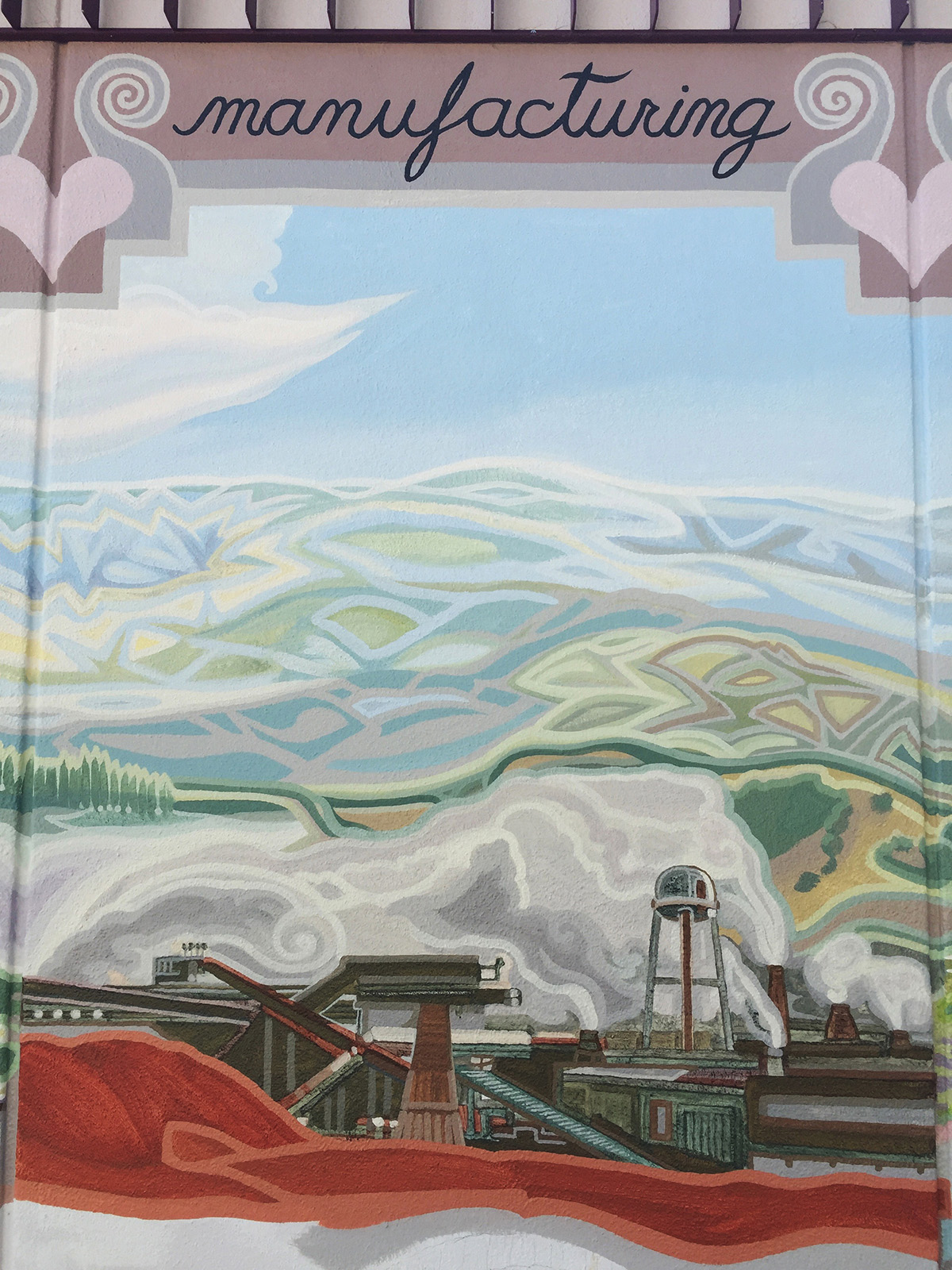 The Masonite plant produced siding and doors made from high-density fiberboard. It operated for 50 years, becoming Ukiah's biggest private employer with 500 well-paid workers and supporting numerous related businesses. It closed in 2001 and the site was demolished in 2007.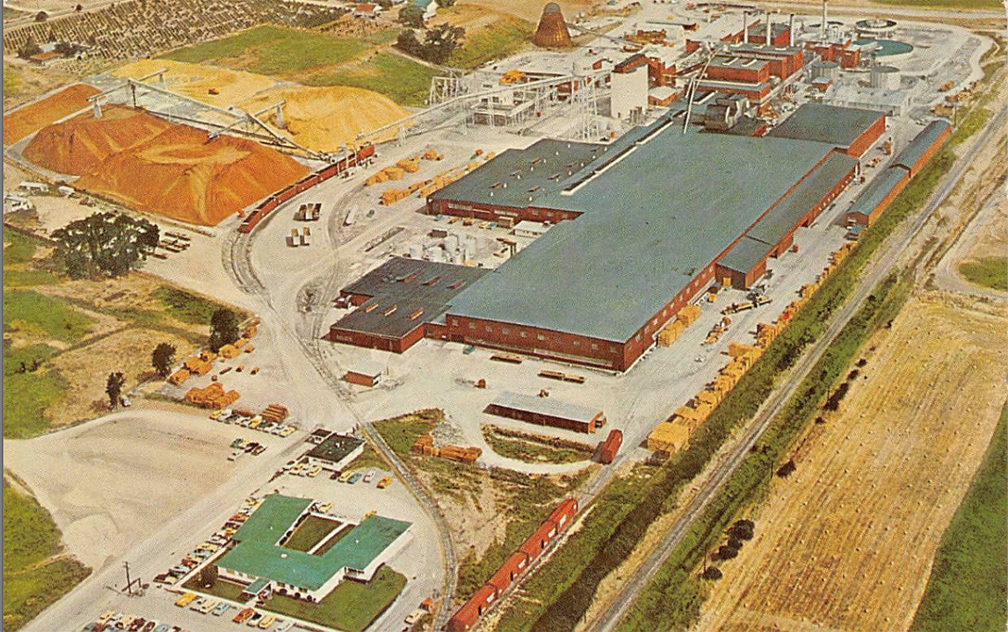 Why did a Masonite plant locate in Ukiah?

Aerial photo of the plant from a 1950s postcard
Because of the plentiful raw material: wood chips and sawdust. See the huge redwood piles in the upper left, as well as lighter colored mounds. See also the "teepee burner" where some wood by-products were burned and the plant's numerous smokestacks at the top of the photo. Terrible air quality was commonplace in the Ukiah Valley during the decades of operation.
The site of Masonite is now owned and partly occupied by Factory Pipe, which designs and manufactures original exhaust equipment (like mufflers) for motorcycles, jet-skies and snowmobiles.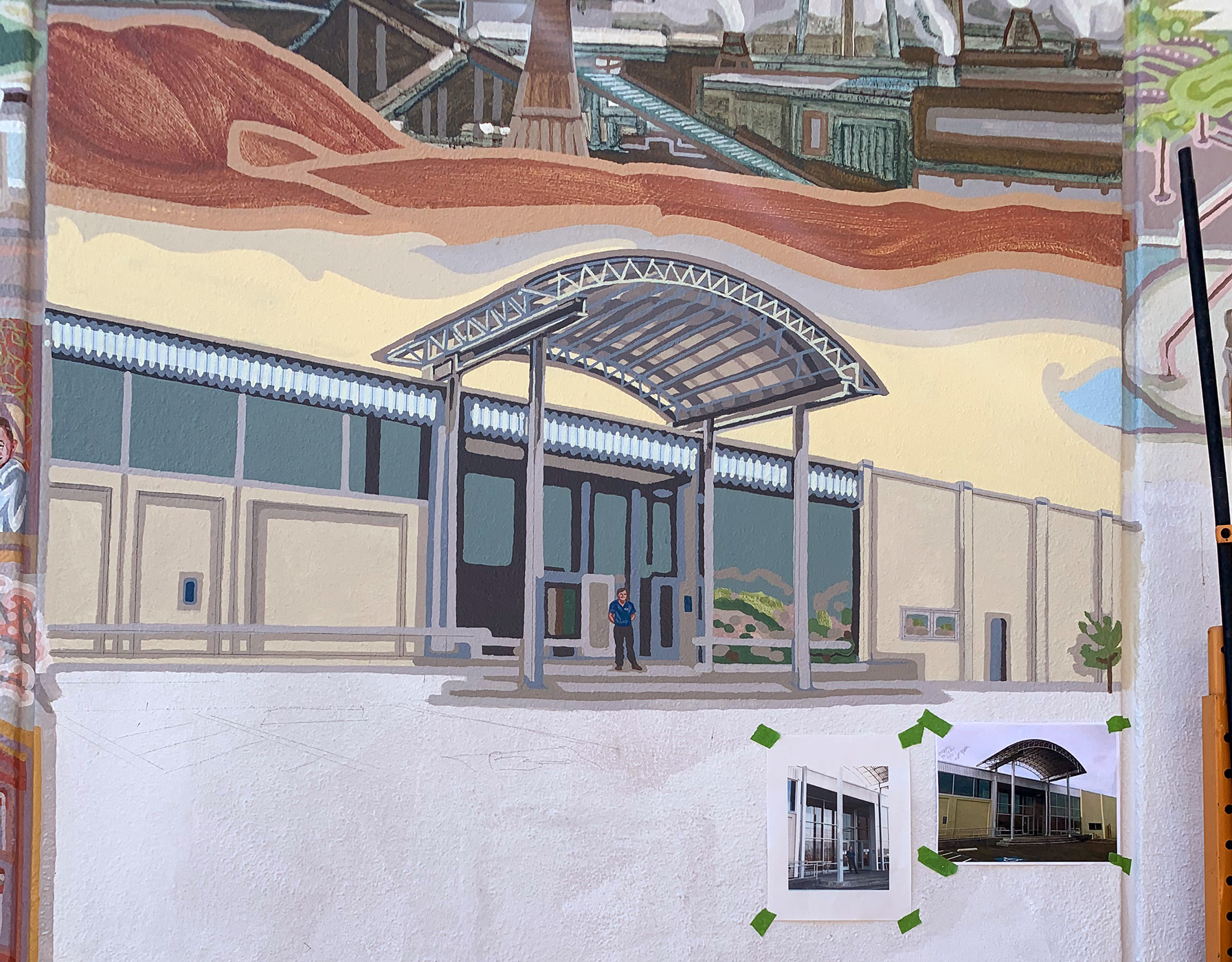 Ross values his employees and many, such as Baldomero Castanon (below), have been with the company for decades.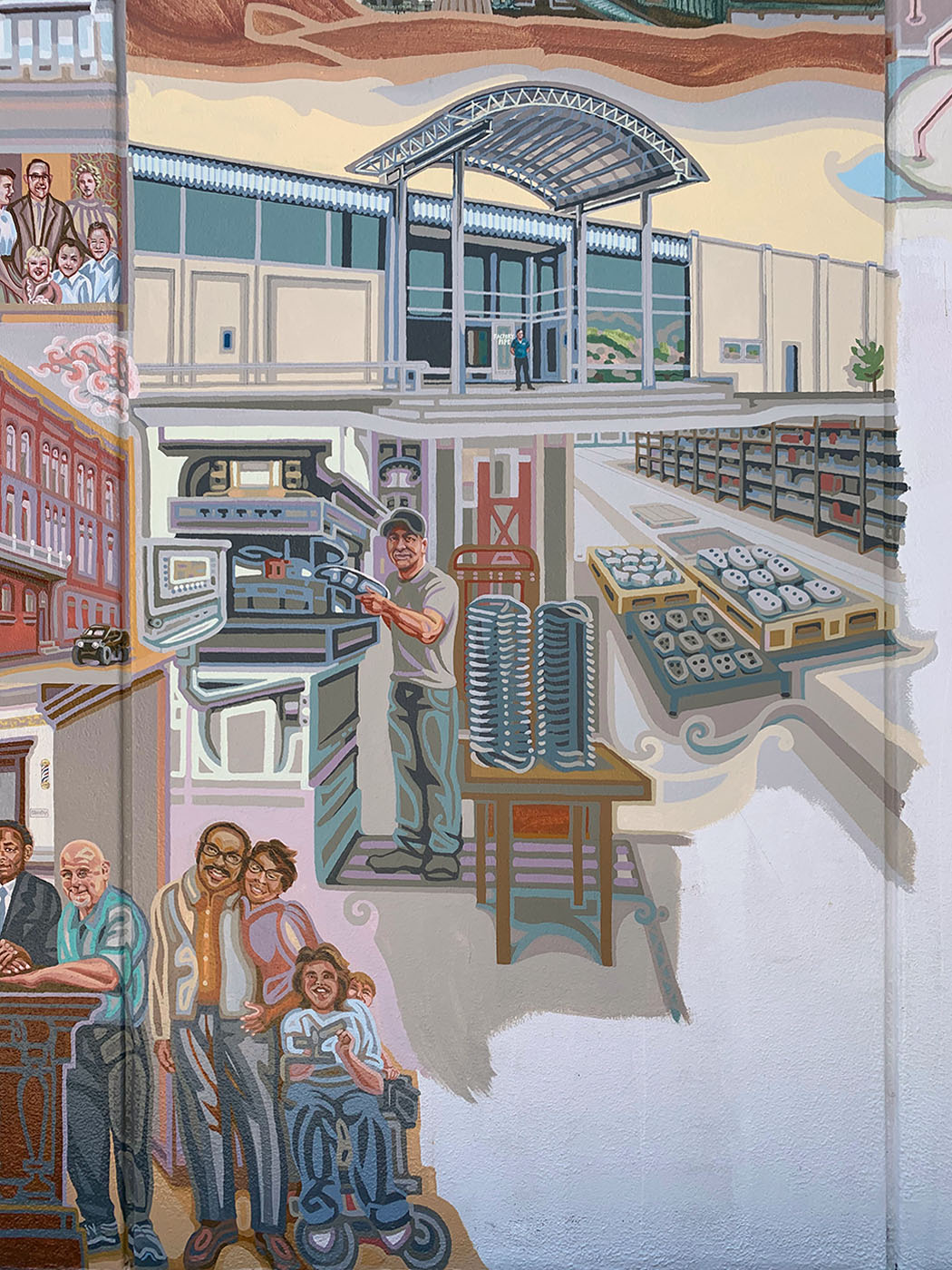 The team came to see the panel when I had finished that part, and Ross declared it Baldomero Day and took us all to a delicious local seafood lunch!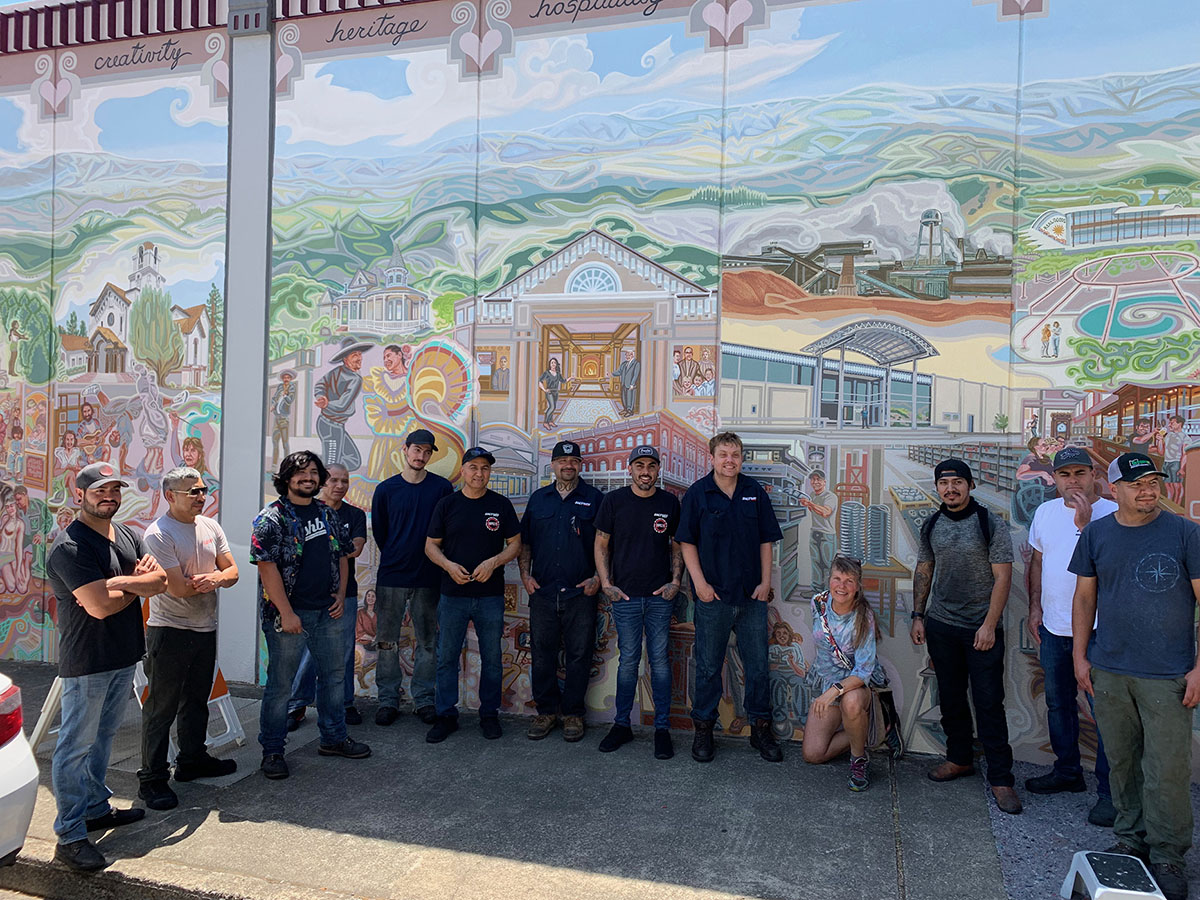 At the base of the panel I depicted a grouping of local products as well as a scene of two people making things in a home workshop.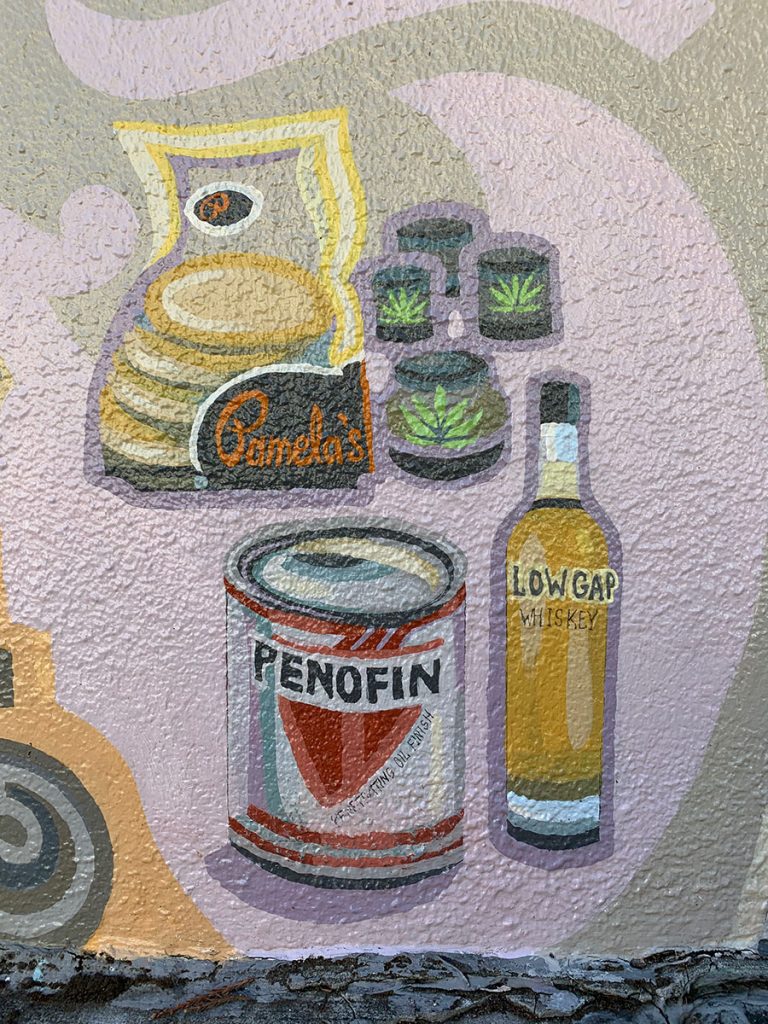 Sample of local manufacturing:

Pamela's gluten-free baking products
Marijuana, including medicinal, edible and topical products
Penofin penetrating oil finishes and wood stain
Low Gap Whiskey from Tamar Distillery
City employee Danny DeVay posed for the home shop scene below and the younger model is my son Adrian, who loves working on home improvement and construction projects.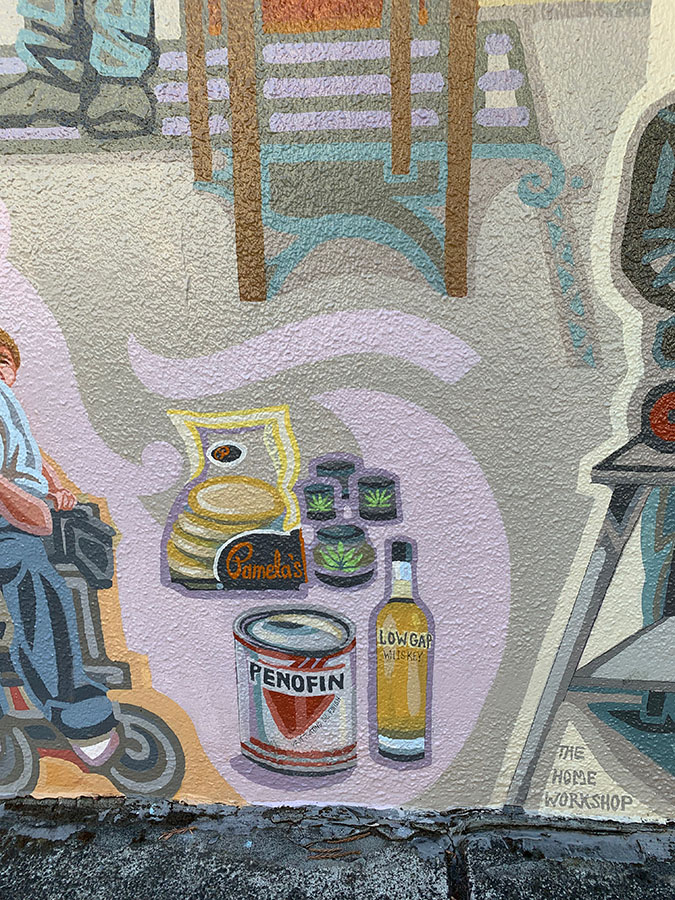 Adrian and I think the painting cast a spell on him in a really good way, because recently he was able to buy a wonderful house in Ukiah, where he can put all those skills to use. Moreover, it is on one of the streets depicted in the mural!
Notice how elements of this panel flow into the next. The connections are familial as well. Next to Adrian's portrait is another young man, a computer coder working on an app in the panel about innovation. He is my other son, Ian! See more in the next panel page.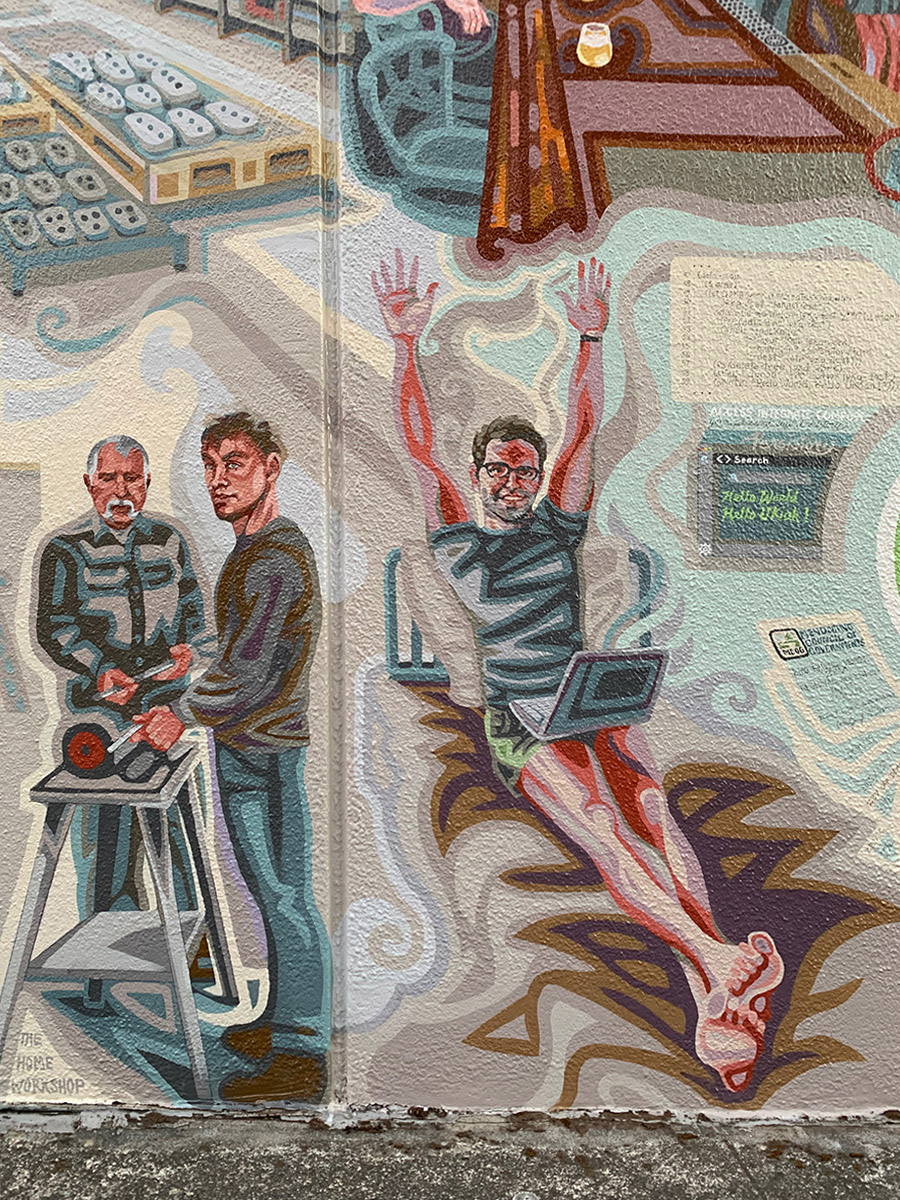 Back to overview of SECTION FIVE